i have different opinions about microblogging service with anton who's like tweeting..i think plurking is more fun than tweeting. why plurk?
Plurk is basically the same as Twitter but with a "timeline" thrown in. Exclusively confined to the website at the moment (there aren't any Plurk desktop apps right now - yet), you are able to say to the world what you are doing, how you are feeling, what you want, and much more. You can even share weblinks such as YouTube videos - which are playable inside the timeline.
When you are in Plurk for the first time, it will be just like Twitter - it will be quiet because you won't know anyone (except for "PlurkBuddy" who is there to dispense some friendly advice to you). All you have to do just find or invite your friends, do plurking, and being active to increase your karma. Karma are points you can use to open more features available on Plurk.
Need plurk themes?! check this: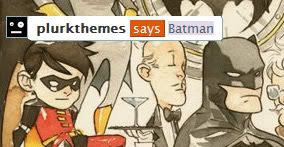 Let's plurking guys!!
follow me on plurk :D